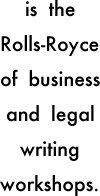 to read our
client testimonials.
BWB, Business Writing At Its Best, Inc., founded in 1981 by Dr. Lynne Agress, offers totally individually tailored writing and editing workshops.
Each BWB workshop is totally individually tailored from participants' pre-submitted writing samples (letters, memoranda, briefs, e-mails, proposals, reports).
While no one person's writing sample is singled out, all of the 16 multiple-paged work sheets contain only participants' examples, making the workshop worthwhile and enjoyable.
Eliminating wordiness and redundancy, organizing concisely, using parallel structure, eliminating passive voice, avoiding jargon and pretentious prose, knowing the difference between which and that, avoiding awkward sentences, making lists, improving usage and punctuation, using an appropriate tone for sensitive letters — these are some of the individually tailored topics covered in a BWB workshop.
Each BWB instructor has taught college English and is a published writer and experienced editor, especially trained to work with business and professional people.
Each BWB workshop for 10 participants is 10 hours, conducted in two consecutive half days (e.g., 9am-2pm).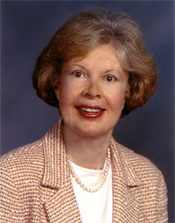 Lynne Agress, founder and president of BWB, holds a Ph.D. in English Language and Literature and has taught at several colleges and universities, including Johns Hopkins, where she still teaches, part time. She is the author of numerous articles, opinion pieces, short stories, and a novel. The Feminine Irony was published in 1978, paperback 1982, and Working With Words in Business and Legal Writing was published in 2002.
Dr. Agress is also available for private editing of grant proposals, articles for newspapers and magazines, business plans, reports, brochures and other sensitive documents.
To find out more about BWB's writing workshops or consulting services, please e-mail us at: LynneAgress@aol.com or read what our clients have to say.